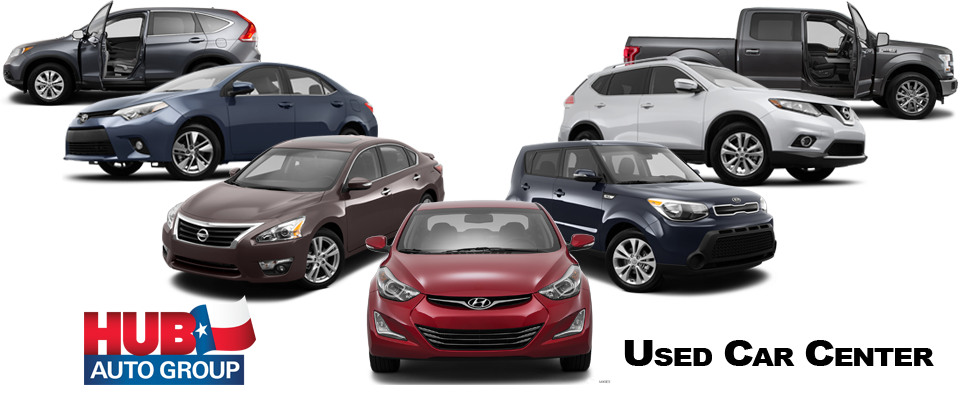 Used car shoppers in the Houston, TX area will find a huge selection of pre-owned vehicles at HUB Auto Group. We stock pre-owned vehicles from practically every brand on the planet including Ford, Chevy, Hyundai, Toyota, Nissan, Jeep, and RAM. It will be hard to find a better selection of used cars, trucks, vans, and SUVs anywhere else in the state of Texas.
Here's another great reason to choose HUB Auto Group for your next used vehicle: the price.
We work hard to ensure that every used car on our dealership lots is priced to sell immediately. We realize you have many different sources when it comes to buying pre-owned, so we have to make sure you get a great used car deal when you shop with us.
No matter what make or model vehicle you're looking for, chances are that we have it. If we don't, we'll find it for you! HUB Auto Group is truly your one-stop shop for used cars in the greater Houston, TX area.    
Buy Certified Pre-Owned Vehicles near Katy, TX
Since we carry two new vehicle lines, we also offer a wide variety of certified pre-owned Hyundai and Mitsubishi models. Looking for something more affordable? Be sure to check out our selection of used cars priced under $10,000.
HUB Auto Group also provides low interest used car loans for shoppers in Spring and Cypress, TX. That's a big advantage versus buying from a private seller or some anonymous seller on the internet.
The other added benefit of doing business with our Texas used car stores is that we provide you with a complimentary warranty with your pre-owned vehicle. It's true! HUB Auto Group's Drive Worry Free Program offers limited lifetime powertrain protection for your used car, truck, van, or SUV.  
Why Buy Used Cars at HUB Auto Group?
Huge selection. Low prices. Great service. That, in a nutshell, is why you need to shop HUB Auto Group first if you are in the market for a pre-owned vehicle. Our giant used inventory means we've got something for every need and every budget.
Pre-owned three-row crossovers, used trucks, low mileage used luxury crossovers, bargain priced sedans and coupes - it's all available in Houston, TX at HUB Auto Group. Check out all our used inventory online and then head down to either location to test drive your next used car!